---
Version 2.2.1
NEW: Viewing Older Compass Messages
You can view the daily Compass messages for up to 7 days after their release. So if you miss a day, you can still go back and read the message:
Select a date in the calendar on the left side of the Compass view.
The Compass message for that date will appear (if it's within 7 days).
---
Version 2.2
NEW: Themes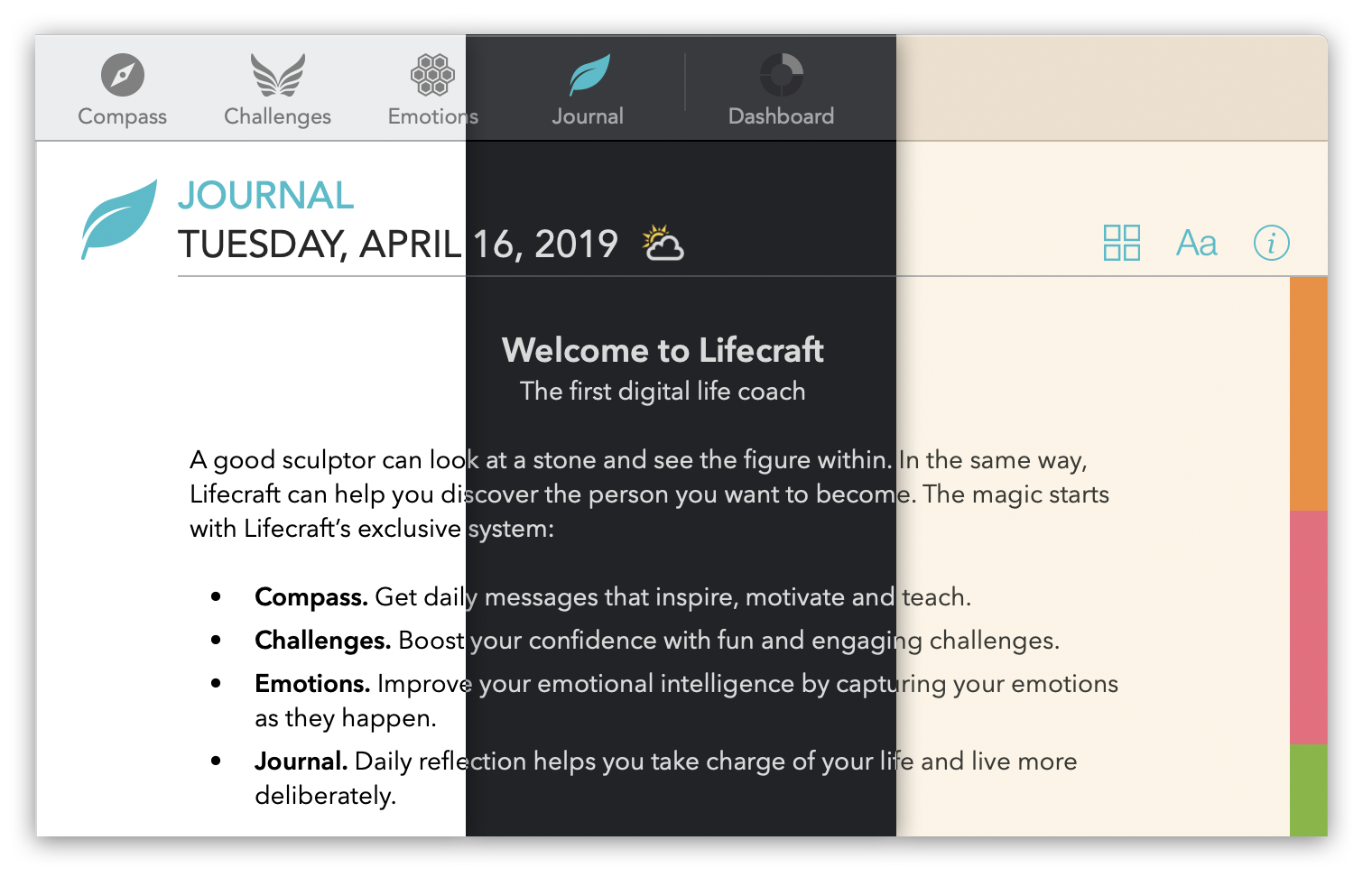 Version 2.2 includes:
Frost (default)
Conrad (dark)
Hemingway (vintage)
More themes will be added over time. Some themes require Lifecraft Pro.
To change the theme, choose Lifecraft > Preferences, then click the Theme button in the General preferences. If you turn on Dark Mode on your Mac, Lifecraft will automatically switch to the Conrad (dark) theme.
NEW: 130+ Journal Icons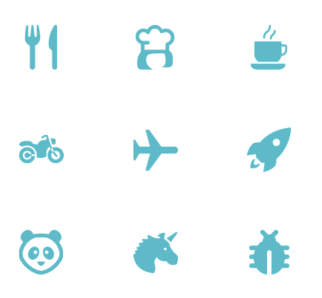 You can change the journal icon from the File menu:

Alternatively, control-click the journal name and choose Change Journal Icon from the contextual menu.
This feature requires Lifecraft Pro.
FIX: Improved Compass/Challenge Messages
Some users haven't been able to see messages in the Compass and Challenges views. This should now be fixed.
---
Version 2.1.3
Lists (bulleted, numbered, checklists)
To add a list to your journal entry, choose one of the list commands from the Format menu. The left side of the text can also be indented.
 
Journal Entry Templates
Journal entry templates can now be assigned to specific journals. For example, you can create a template specifically for your Work journal and a different template for your Food journal. When you create a new entry in either journal, the appropriate template will automatically be used. Read more here: Entry Templates
Hide Navigation Bar
If you find the app too complicated, you can choose to hide the navigation bar that appears at the top of the Viewer window:

This will make the interface simpler so you can focus on the content. To hide the navigation bar, choose View > Hide Navigation Bar.
How do I change views when the navigation bar is hidden?
Click the main view title. For example, in the Journal view, click "JOURNAL", then select a view from the menu that appears: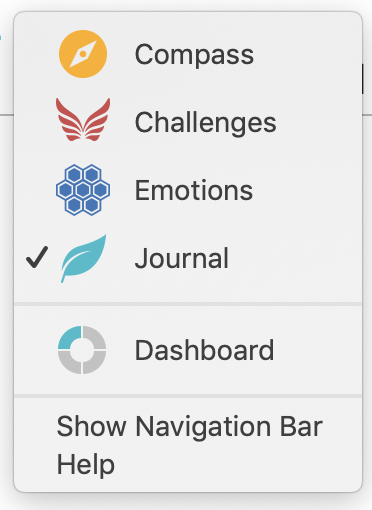 OTHER
Fixed a problem where photos embedded in journal entry text would appear too big.