One of the main goals of Lifecraft is to help you become more aware of your emotions. This is critical to living a happier, more balanced life.
The word emotion comes from the Latin term emovere which means moving. In other words, emotions are a combination of energy and motion and are an expression of how life is constantly flowing around you.
Emotions can come and go very quickly, which can make it difficult to understand the complex processes that produce these emotions. That's why it's so important to keep a record of your emotions, a practice that will yield valuable insights.
---
Emotion types
There are two main types of emotions: Primary and Secondary.
Primary emotions
Primary emotions are those that you feel first in response to an event. They can be very strong and are usually instinctual. They often bypass your higher thought processes: when something happens, you can feel an emotion before you fully understand why. Lifecraft includes 8 primary emotions:
Happy
Loving
Optimistic
Surprised
Afraid
Sad
Bored
Angry
Secondary emotions
Secondary emotions are more complex and often come after you've had time to process a primary emotion. For example, when you feel happy (a primary emotion), you might recognize that it's because you're amused or relieved (which are distinct secondary emotions). Secondary emotions are generally learned — we acquire them from our family, community, life experience, etc.
Lifecraft includes 8 secondary emotions for each primary emotion. For example, these are the secondary emotions for Happy:
Cheerful
Delighted
Joyful
Amused
Proud
Satisfied
Grateful
Relieved
---
Understanding your emotions
Examining your primary emotions will help you recognize events in your life that trigger these emotions. Examining your secondary emotions will reveal how you react to and process those events internally. In both cases, simply taking the time to reflect on your emotions will help you gain a greater understanding of yourself. This can be highly beneficial.
---
Emotion model & editing emotions
Lifecraft's emotion model is based on decades of research into unique human emotions (see Robert Plutchik, W. Gerrod Parrott, Phillip R. Shaver, etc.) However, every person is unique so there's no standard set of emotions. For that reason, you can edit the emotions in Lifecraft to make them your own.
See: Settings > Emotions Names (iPhone, iPad) or Settings > Emotions (Mac).
---
Recording your emotions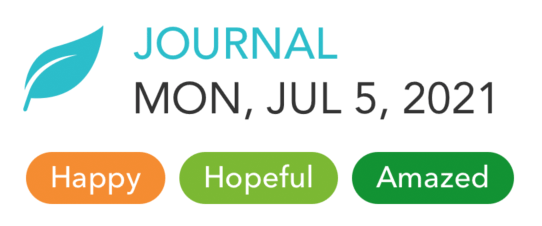 Emotions are added to journal entries by clicking the emotion bar on the right side of the Entry View. You can add multiple emotions to a journal entry. Emotions can be all-day or timed. Each emotion has an intensity value (low, medium, high, extreme). See Adding Emotions for more information.
---
Viewing emotions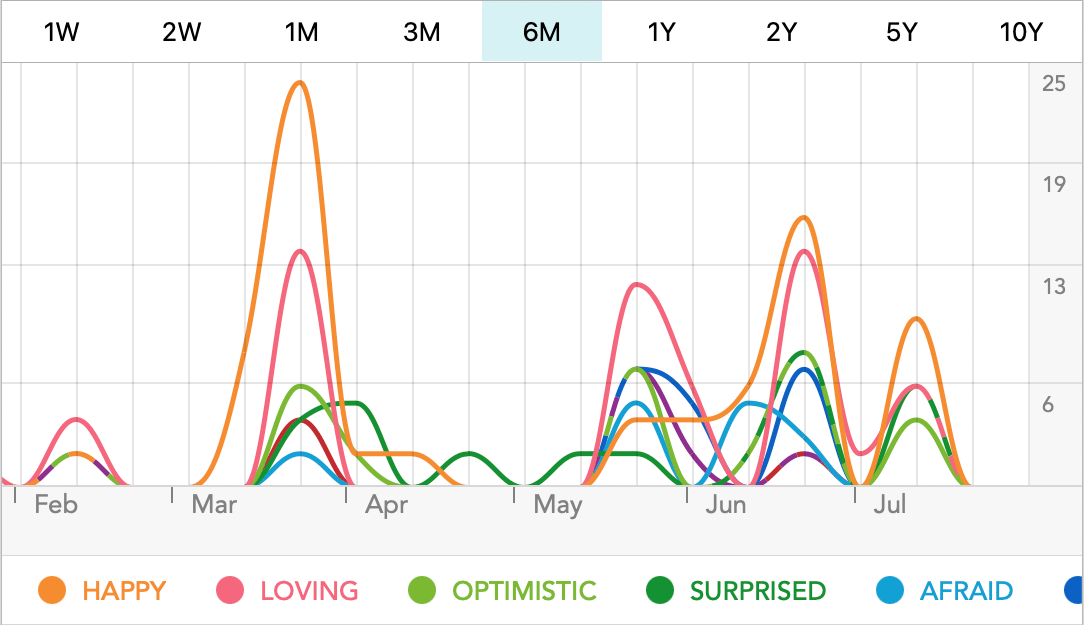 You can view your emotions simply by browsing your journal entries. If you're looking for a specific emotion, you can filter your entry list for that emotion.
But if you'd like to discover trends in your emotional life, you should view your Emotion Charts. You can see how your emotions change from hour to hour, or over the course of days, weeks, months or even years.
---
Learn more